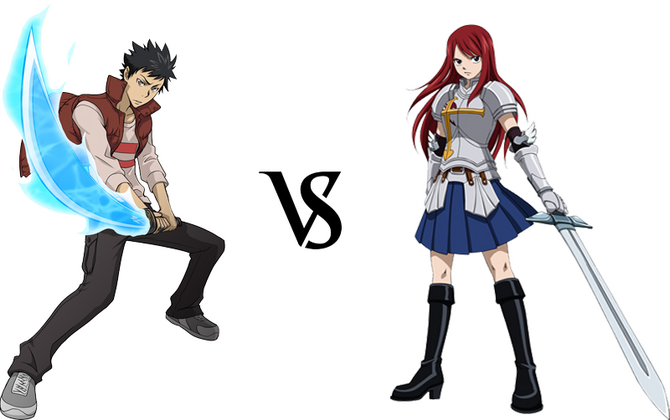 Participants
Edit
Takeshi Yamamoto
Edit
Abilities
Edit
Vongola Gear Version X
Shigure Soen Ryu style.(4 offensive and 4 defensive)
The 4 irregular swords.
Erza Scarlet
Edit
Abilities
Edit
Can "requip" her armor and apparel, out of a wide selection she can take on the armor of any god or goddess at her own will, providing maximum defense and/or offense.
First Scenario
Edit
1. No restrictions
Second Scenario
Edit
2. Speed and power equalized
Third Scenario
Edit
4. Knowledge & Prep Time
Fourth Scenario
Edit
5. No power or abilites
Fifth Scenario
Edit
5. Bloodlust
Who do you think will win?
Ad blocker interference detected!
Wikia is a free-to-use site that makes money from advertising. We have a modified experience for viewers using ad blockers

Wikia is not accessible if you've made further modifications. Remove the custom ad blocker rule(s) and the page will load as expected.