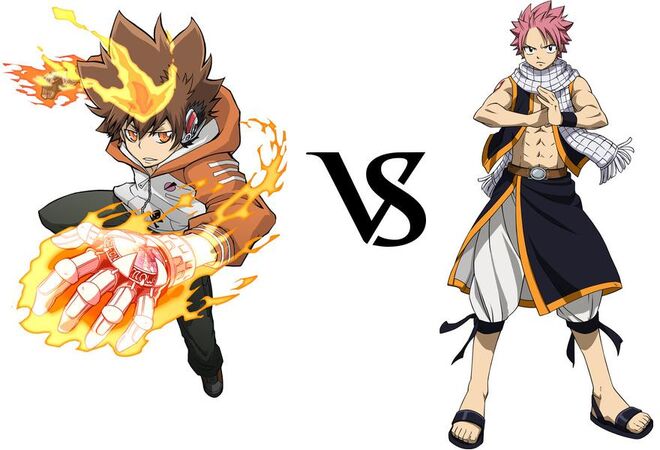 Participants
Edit
Tsunayoshi Sawada
Edit
Abilities
Edit
Dying-Will Flames
Soft Sky Flame
Hard Sky Flame
Oath Flame 
Can Absorb and Convert Flames
Can Freeze any Type of Flame
X-Burner
XX-Burner
Deathperation Point Zero
Zero Point Breakthrough: Revised
Zero Point Breakthrough: First Edition
X-Stream
Hyper X-Stream
X-Cannon
Big Bang Axle
Burning Axle
Mantello di Vongola Primo
Hypersonic+ Speed
Natsu Dragneel
Edit
Abilities:
Edit
Fire dragon slayer
Fire Magic
Eats fire
Lightning Flame Dragon Mode
Dragon Force
Roar of the fire dragon
Black Fire Dragon Mode
Fire Dragon King Mode
Fire Dragon Claw
Fire Dragon's iron fist
fire dragon wing attack
fire dragon sword horn
fire dragon's brilliant flame
fire dragon's flame elbow
fire dragon's crushing fangs
fire dragon's grip strike
Fire dragon king demolition fist
fire dragon kings roar
Etc More on this page ----->
☀http://fairytail.wikia.com/wiki/Natsu_Dragneel
First Scenario
Edit
1. No restrictions
Second Scenario
Edit
2. Speed and power equalized
Third Scenario
Edit
4. Knowledge & Prep Time
Fourth Scenario
Edit
5. No power or abilites
Fifth Scenario
Edit
5. Bloodlust
Who do you think would win?
Ad blocker interference detected!
Wikia is a free-to-use site that makes money from advertising. We have a modified experience for viewers using ad blockers

Wikia is not accessible if you've made further modifications. Remove the custom ad blocker rule(s) and the page will load as expected.